DAY 1 OF THE INTERNATIONAL PEACE DAY 2019: PLANETE PAIX INVITES THE YOUTH OF KOUMASSI TO APPROPRIATE US STATE DEPARTMENT'S INSTRUMENTS OF PEACE AND SUSTAINABLE DEVELOPMENT
On the eve of the International Peace Day of September 21, 2019 from 09:00 to 12:00, PLANÈTE PAIX KOUMASSI in collaboration with US Embassy in Côte d'Ivoire has proceeded to the capacity building on US programs of about 100 Young people of KOUMASSI at the Cisse Check Salah youth center in district 05.
Young people are indeed, very interested in the opportunities offered by developed countries. These offers are made available to young people via the embassies of these foreign countries. But, few young people have echoed these programs and the youth of KOUMASSI, unfortunately, is no exception. Some of these opportunities will help young people to take effective actions in order to impact their, for sustainable development. The Embassy of the United States of America in Côte d'Ivoire, through the "American Programs" and "American Spaces" offers opportunities for training, studies or even work in Cote d'Ivoire and abroad especially in the United States.
The objective of the activity was to make participants understand that the American Programs are effective tools for a peaceful, dynamic, committed and responsible youth for sustainable development and to get them to join the programs.
In her speech, Mrs. Ellen PETERSON, Cultural Attaché of US Embassy in Côte d'Ivoire encouraged young people to join US programs by stressing the importance of programs and how these tools could be used to change and significantly improve their lives and those of their community.
Mr. YAO Loukou Meyrieux, Coordinator of the American Space show the opportunities related to the American Center, the American Spaces and the American Corners. Then, Mr KOFFI Guy Honore, Cultural Affairs Specialist of US Embassy in Côte d'Ivoire, presented the opportunities offered by the US State Department by explaining the various existing programs. Finally, the Organization's Central Chairperson, Mr. Achille COMOE, a Yali Techcamp Alumnus, took the floor and thanked the participants for their interest in the activity before giving them some tips for submitting their files. . This activity was done in collaboration with the Koumassi City Council and US Embassy in Côte d'Ivoire.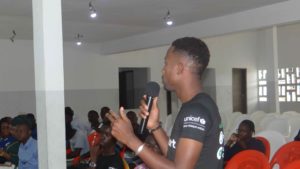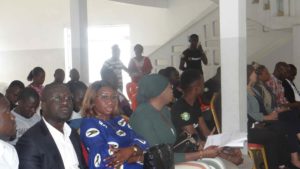 Planète Paix
23 Bp 696 Abidjan 23
Téléphone : (+225) 05605649
Email : info@planetepaix.org
Achille COMOE (Président Central)
23 Bp 696 Abidjan 23
Téléphone : (+225) 48138304
Email : achillecomoe@yahoo.fr
YAO Serge (Secrétariat Général)
23 Bp 696 Abidjan 23
Téléphone : (+225) 08995445
Email : yaoserge12@gmail.com
IBO M'Pigué Mireille (Responsable de Communication)
23 Bp 696 Abidjan 23
Téléphone : (+225) 49515559
Email :mpigueibo@hotmail.com
Pacôme Affognon (Président du Conseil des Champions Pays)
23 Bp 696 Abidjan 23
Téléphone : (+229) 97560698
Email : affogcome@yahoo.fr