PLANETE PAIX-GBEKE IS PROMOTING PEACE AT UNIVERSITIES
On Saturday, April 13, 2019, PLANETE PAIX-Gbêkè started an action of promotion of Peace at Universities with the subject : "Pacification of universities' yards : resolution and mode of management of the conflicts". Alassane Ouattara University, at Campus 2, specifically at American Corner, hosted the first activity. This action comes in response to the different forms of violence that are often perpetrated in this space, in particular, that which opposed the students and the prison guards.
The President of the of the Organizing Committee Constant Konan, thanked the participants, the Speaker, the members of the Organization for their presence, and welcomed their effective participation.
The President of the NGO Planète Paix-Gbêkè Marie-France Koffi, speaking, addressed her words of thanks to the Speaker, to the Central President of Planète Paix Achille COMOE, and to the participants. She also made a brief presentation of the international NGO Planète Paix, its objectives, its actions and its fields of action.
President Achille COMOE, addressed the conference participants through illustrations of school and university violence to show the need for peace in our schools and universities. He also thanked the participants, the President of the NGO Planète Paix-Gbêkè, the members of his team and the authorities present. He ended his speech by highlighting the actions of the Organization in the quest for peace in the country.
The representative of the Regional Director of Youth, Mr. Oulai Jean Jacques, ended the series of speeches. Mr. Oulai emphasized that students be sensitized on the need to respect University rules.
The speaker of the day, Professor CAMARA Moritis, Senior Lecturer in the History of International Relations, pointed out that " University is a place of production, preservation and dissemination of knowledge" before attracting attention of the audience that the word "pacification" is not appropriate in the context that brings us together. The speaker explained that the word pacification is a military and colonial term. The use of such a term, related to the university space seems therefore incongruous and therefore unacceptable. This would help make this special area a theater of military operations, a war ground, in this case, it would be appropriate to pacify. Having lashed out at the behavior of certain actors in the university space who are similar in their manifestations to military operations, the Professor recommended dialogue as a way of resolving disputes that may arise between academic actors and between these actors and outsiders. For him, the appropriate word is "Normalization". He concluded his communication in these terms : "When you know who you are, you adapt your behavior to what is expected of you".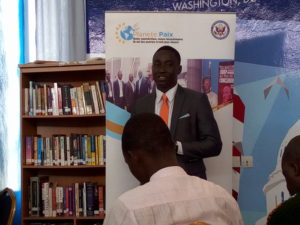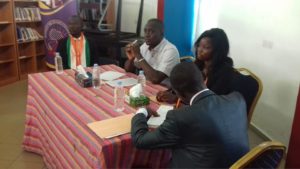 ELEMENT SONOR DU JOURNAL RADIO BKE 1